Welcome to Rolling Kft. homepage!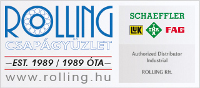 Company:
Rolling Ltd.
Address:
2030 Érd, Balatoni út 43.
Telephone number:
+36 23 390 453
Intra-community VAT number:
HU10312072
IBAN:
HU07 1040 3136 4950 5249 5352 1004
SWIFT Code:
OKHBHUHB
Our company has running for 23 years, since 1990, deal with bearings and bearing components in the distribution of individual customers, industrial users and resellers. Over the years we expanded our range of various other related products for repairs, accessories as well. We have more than 50,000 kinds of articles in stock.
A wide selection of manufacturers and products can be found in our stock:
industrial and agricultural bearings
linear bearings, precision shafts
machine tool bearings
Y bearings
needle roller bearings, rolling elements
FAG greases tested
automotive bearings
freight and passenger car wheel bearings
generator bearings
air conditioner bearings
gearbox bearings
clutch parts, clutch kits, kits
dual-mass flywheels
Loctite maintenance materials
coll-size bearings
miniature bearings
stainless steel bearings
Schaeffler Group
We are authorized dealer of the Schaeffler Group for several years. It also markets the INA and FAG brands of bearings, including the world's largest premium product range bearing types, including linear and roller bearings, spherical plain bearings, plain bushes, rolling elements, tested greases offer a wide range of diagnostic-bearing assets. They are also the manufacturers of LuK premium brand products, OEM installation quality car parts are very popular, such as the clutch, flywheel, alternator freewheels, cam- and belt sets, water pump.
Koyo
We are a direct distributor of Japanese Koyo - JTEKT company. The company's main business acquired stable technological background drawing automotive bearings production over the years. Their products can be found in the seven-meter diameter super-large bearings and the inner diameter of less than a millimeter miniature masterpieces by the roller bearings as well.
Loctite - Industrial Adhesives and sealants
"Whoever wants to be listed on the market successfully, need to have a reliable cooperative partner." Loctite partners of the industrial adhesives and a full range and system solutions for sealants, from design and product development from production processes, administration test from the simulation product tests. Loctite - part of the Henkel group since 1997 - a global, market leading chemical company, sell industrial adhesives, sealants and coating materials for commercial use directly or indirectly through distribution network.
EZO
The Japanese EZO meets the highest standards of quality and state of the art production lines miniature stainless steel bearings (Metric and also coll-size) manufacturer.
We supply more NSK and NACHI Japanese NTN-SNR Japanese-French bearing factories premium products, and their next cheap priced (Slovak, Korean, Chinese) bearings, industrial and automotive seals, O-rings, snap rings, and sleeves as well.
CORTECO
The Italian CORTECO is a market leader in manafacturing of seals and simmerrings. We supply many types of CORTECO's products.
Megadyne
The Italian Megadyne is a market leader in manafacturing of power transmission belts and conveyor belts. We supply many types of Megadyne's products.